"Everything comes with a price", this seems to fit strongly the situation of our artists during pre revival of Pakistan's cinema industry where at some occasions they were seen compromising their national interests for sake of work in Bollywood. While the list of actors to fall prey to the situation isn't long, one prominent name in this list was Meekal Zulfiqar who worked in an anti Pakistan spy thriller Bollywood flick "Baby" in 2015 staring Akshy Kumar in lead role.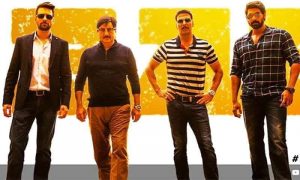 The movie got banned in Pakistan and Meekal earned himself loads of criticism but now things have changed post 2016 Uri incident with Bollywood closing its doors for our artists and now Pulwama attacks have proven to be the final nail in coffin with no hope whatsoever left of return to the stupendous industry in near future . It might be for this reason that people like Meekal even are coming forward more valiantly to question Indian content release in Pakistan.
In a recent post on his instagram handle while sharing the teaser of his upcoming Pakistani film "Sherdil", Mikaal excitedly went to far in spur of the moment by writing
"Jab Pakistani films ka ye level hai to who needs bahir ki films…. Support Pakistani Cinema".
https://www.instagram.com/p/BuJav1eAm4c/?utm_source=ig_share_sheet&igshid=1ow2fppyh828
And that makes us go "Tumhain yaad ho k na yaad ho Babyyyy!!!". We are not against Pakistani actor acting in a foreign film. From Fawad Khan to Saba Qamar, there have been many actors who have worked in Bollywood films but those projects were not bearing any anti Pakistan agenda and still none of those actors ever tried this tactic to sell their Pakistani film. And now seeing someone preaching patriotism while selling his film, who once has done a film like "Baby", is quite surprising.
However from the teaser "Sherdil" seems to have an anti India element set in 1965 war situation and may very well wash the "daaghdar maazi" of Meekal but for now we couldn't resist to remind him of this blast from past.
"Sherdil" is set to release on March 22nd, and from the teaser it looks like film could not have got a better release time. We at Pakistani Cinema wish the film and the team behind it all the best for its success.