Ardent cinema fanatics in the country have been waiting for eons for cutting edge film-maker Saqib Malik's cinema debut, and the excitement reached insane levels when it was recently announced that the Khamaj director had completed his upcoming production, titled Baaji. While its shooting was shrouded in secrecy, the word in the industry was that it would certainly live up to the reputation of Saqib's well-known music shorts and advertisements, known for defining trends not just in Pakistan but across the border as well.
Well, it seems, the veil is finally ready to be lifted from the visual splendor crafted by the auteur, as we at PakistaniCinema.net have the first exclusive still from the film.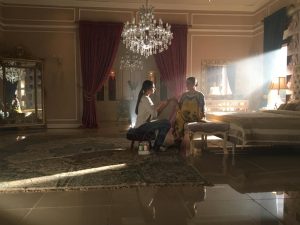 In what is a luxurious yet very tastefully furnished and lit bedroom of one of the movie's characters, the shot showcases Amna Ilyas and Meera having some type of deep, pensive conversation, as the sunlight wafts through. The ambiance is reminiscent of vintage Hollywood and one would be mistaken into believing that this is a screenshot from one of the greats such as Almodovar. The very atmospheric shot gave the writer vibes of the Spanish director's critically acclaimed Volvér (2006) and Talk to Her (2002), but Baaji is a different film altogether, with a story that is apparently organic Pakistani yet with shades of golden age cinema from the Lahore industry and Hollywood.
The still has certainly upped the expectations from the film, and we can be sure that it will set new standards for Pakistani cinema.
Baaji stars Amna Ilyas, Osman Khalid Butt, Mohsin Abbas Haider, Ali Kazmi and Meera and is due for release in the first half of 2019.