It's been an amazing year for Pakistani cinema, but it's possible that some of the best, most buzzed-about debuts in big-ticket ventures might have slipped under your radar. From martial arts wielding antics to stories about modern-day djinns, the best debutantes of the past year had a lot to display. Here we give you a quick whiz through what were the ten best debuts of 2018, listed in no particular order.
Zain Haleem – Teefa in Trouble
Haleem is no stranger to creating slick imagery that captures the viewers' attention. An Ahsan Rahim regular, he has worked as DOP for adverts of numerous prestigious brands such as Sprite, Red Bull and Jazz. In "Teefa in Trouble", the cinematographer excelled at capturing the stick wielding, bordering on Bruce Lee antics of Ali Zafar, with equal ease in the mohallas of Lahore as on the highways of Poland. Managing to give that oh-so-Hollywood feel within a tight budget is no mean feat, and Haleem deserves at least some credit for that.
Faseeh Bari Khan – 7 Din Mohabbat In
"7 Din Mohabbat In" broke much fresh ground for the romantic comedy genre by adding an ingenious element of oriental fantasy and mysticism. And much of that was due to its script, penned by Faseeh Bari Khan, which was populated by zany characters such as a modern-day djinn, a feminist on a mission and the bechara Tipu. Practically every single minute of the film had some gem moments, right till the climax with its intelligently conceived twist. While Khan has penned the previous short Jeewan Hathi, "7 Din Mohabbat In" was his full length feature debut.



Azaan Sami Khan – Parwaaz Hai Junoon
This Air Force romantic drama had a lot going for it besides its music – for starters, its stellar cast and an elaborate on location shoot on an actual air force base, but Khan's soulful tunes ensured that the music would not go unnoticed either. From desi wedding dance number Naache Re to the bluesy Thaam Lo, the latter having Atif Aslam's vocals, "Parwaaz Hai Junoon"'s soundtrack had quite some variety, and the music managed to stay with us after the film too, which is a job well accomplished on the part of its music director.
Aziz Jindiani – The Donkey King
"The Donkey King" was political satire — that was not a political satire (in the words of its director) – but Jindiani ensured enough for the key demographic of the film i.e. kids to stay suitably entertained throughout. "The Donkey King" had some of the best animation we have seen, and the script was quirky and so was the catchy soundtrack. Aziz Jindiani helmed the project, and deserves much credit for its slick execution.
Hajra Yamin — "Pinky Memsaab" and "Maan Jao Na"
The theater actress from Islamabad impressed critics and the audience with her naïve-help on foreign shores act in the Dubai-based relationship drama "Pinky Memsaab". While she didn't have a lot to do in "Maan Jao Na" her frizzy look and peppy presence did not go unnoticed.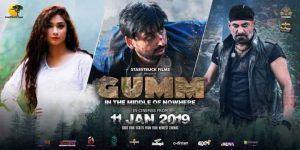 Ali Zafar – Teefa in Trouble
Ali Zafar needs no introduction, and many were curious about how the Channo star would fare upon his debut with "Teefa in Trouble". Well, as most know, he passed with flying colors. Ali managed to do everything from dancing like a pro, romancing his on-screen belle to kicking some butt in the film's well-choreographed action sequences. And while at this, he also managed to provide the vocals for and write the movie's soundtrack, besides contributing towards penning its script, too…in short, a job well done!
Maya Ali – Teefa in Trouble
Prior to her cinema debut, Maya Ali was already a big name courtesy her well received television performances. In "Teefa in Trouble", Maya managed to make the character of Anya completely her own, giving it a certain individuality and a devil may care air.
Ahsan Rahim – Teefa in Trouble
Already a renowned music video and ad-film director, Ahsan Rahim did not give in to his impulses from the advertising industry while shooting "Teefa in Trouble", and managed to make a slick looking action-comedy caper on a budget. His was a long awaited debut, and indeed a successful one.



Asim Abbasi – Cake
Asim Abbasi with "Cake" crafted a beautiful, thought provoking film that resonated with the audience at many levels. The film wowed influential critics outside Pakistan, too, and Abbasi, who wrote the movie besides directing it, deserves much credit.
Adnan Malik – Cake
Playing role of the Christian support staff Romeo in "Cake", Malik impressed with his screen presence and solid acting chops in this Asim Abbasi helmed relationship drama. That he managed to stand tall amidst some impressive performances from acting veterans such as Amna Sheikh and Sanam Saeed is no small feat. We look forward to seeing more of Malik, in the future.