Ahsan Khan is a name that needs no introduction in Pakistan. The star of many famous television serials in Pakistan made his comeback to silver screen through 2017's sleeper hit "Chupan Chupai". His current project "Aangan" is already the most talked about project of the year while his upcoming projects unclude a web series with the talented Ayeza Khan, a TV project "Alif" and a mega film project "Patakh De" of MD productions.
Ahsan is recently awarded the title of "Goodwill Ambassador to Pakistan" by several prominent members of the UK Parliament and local government . He was awarded the shield of Goodwill Ambassador by UK MP Seema Malhotra. Also present were Samia Chaudhry, Mayor of the Borough of Hounslow and Steve Curran, the Leader of the Hounslow Borough Council.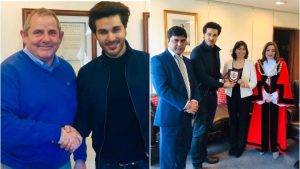 For a star of his accomplishments to be presented with a title to promote cooperation and goodwill between the UK and Pakistan is indeed a great honour. The UK has a sizable community of Pakistanis and Indians that love to watch the drama serials and films made in Pakistan. Mr. Khan's own critically acclaimed play, Udaari, was received very well there and his current period piece Aangan has also created waves in the UK.
Food Drive for the Homeless
In London, Ahsan also met with the team of the'Open Kitchen', a service that provides free, hot meals to the poor twice a day, especially to the homeless. The kitchen is an initiative of Muslim Hands, an International NGO that was formed in 1993 in the aftermath of the Bosnian conflict and currently operaties in 50 countries.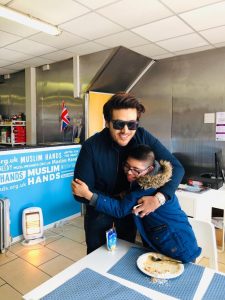 Talking to Pakistani Cinema, Khan influenced the need of such initiatives which help portraying the progressive image of Pakistan in the foreign countries and expressed his admiration for Open Kitchen. In his own words "I hope to bring this kind of initiative to Pakistan as well. Its great as it serve all people regardless of their caste or religion." For a country like Pakistan, where an estimated 20 million people don't have access to adequate housing, this would be a welcome initiative.
Actors Affecting Change
Ahsan Khan is the latest in a long line of celebrities both local and foreign that have thrown their weight behind initiatives to affect social change. People always talk about Leonardo DiCaprio and Angelina Jolie, and even Aamir Khan, but Pakistan has had a history of celebrity activism as well.
Mohammad Ali and Zeba, the husband and wife actor duo that were loved by millions created the Ali Zaib foundation in 1995 to treat those afflicted with Thalassemia. Other stars like Shehzad Roy, Abrar Ul Haq and Jawwad Ahmad have also lent their support to help the poor and the afflicted. Armeena Rana Khan, Ahsan Khan's contemporary, also recently joined hands with the Human Relief Foundation to help Syrian Refugees in Jordan.
Ahsan Khan is now carrying on this proud tradition and we hope to see him do much more in the future.