Following a long hiatus which saw her appear in some non-descript films, Meera is back with a bang. Although better known recently for her off screen antics, the controversy queen has surprised everyone with her upcoming venture, which happens to be none other than Saqib Malik's Baaji. The film's teaser released a few backs back received a largely positive response and many were left spellbound witnessing the 90s star's transformation for the film. Not only did Meera manage to look elegant and glamorous in the film's poster, she emoted perfectly in the film's promo clip and left her fans in wanting for more. The film is currently one of the hottest summer releases.
Meera rose to fame during the fag end of Lollywood years, when film making machinery in Lahore's decades old industry was slowly grinding to a halt. Despite the shortcomings of the films produced during the era, she still gave some memorable performances that brought her more work and critical acclaim as well. Here we look at some of those films, some of which were her breakthrough hits while a few others marked her comeback after a lean period at the box office…..
Khilona
Directed by Sangeeta, released on November 1, 1996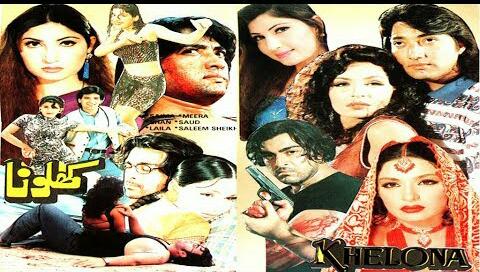 1996 was an eventful year for the then starlet. She starred in her first hit Chief Saab (directed by Javed Sheikh) and also appeared in successful films such as Shamim Ara's Miss Istanbul. But all of these featured multistar ensemble casts. Many industry insiders questioned whether Meera had what it takes to deliver a solo hit. They got their answer with Khilona, which starred the actress in an author backed role of an abused housewife struggle for survival and a genuine relationship. While the film may have had shades of Sleeping with the Enemy no one could deny that Meera made Khilona's character truly her own. She excelled in the film's many dramatic moments and some scenes in the film made one wonder how an actor could endure that much for the camera. The movie's title track Teri Ankhon Ne was a raging success and even Meera's detractors could not deny that the actress looked glamorous and graceful notwithstanding the film's below par production values. The movie was a massive success and established Meera as one of Lollywood's acting talents to be reckoned with.
Inteha
Directed by Sameena Peerzada, released on February 26, 1999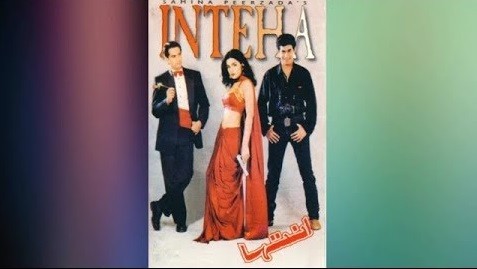 The year 1997 and 1998 saw the actress deliver a succession of flops, including Javed Sheikh biggies Yes Boss and Kahin Pyar Na Ho Jaye and Sangeeta's much awaited follow up to Khilona titled Dream Girl. Later Ehsaas (again directed by Sangeeta) and even Shaan's much awaited Guns and Roses Ik Junoon didn't work. All of that changed with Inteha, where Meera once again portrayed the character of a battered housewife dealing with a psychotic husband played by Humayun Saeed. Critics lauded the film's sensitive handling of the issue of marital rape whereas the masses lapped the slick choreography and better than usual production values. Meera once again proved that when it came to dramatic performances, she was second to none. The movie was a runaway hit.
Khoye Ho Tum Kahan
Directed by Ajab Gul, released on  April 27, 2001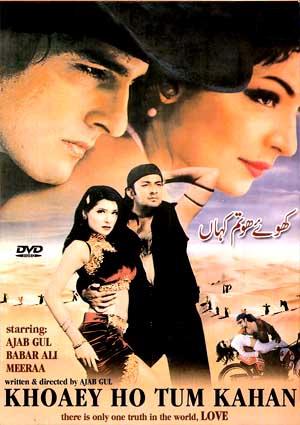 Following Inteha, Meera once again witnessed a drought of box office hits with her last film before Khoye Ho Tum Kahan, Shehzad Rafiq's Rukhsati bombing at the ticket counters. All of that came to end with Khoye Ho Tum Kahan, which was actor Ajab Gul's debut directorial film. Meera played the role of a rich heiress marked for murder by her husband in this thriller. The film had already generated an unusual amount of hype courtesy its well marketed promos and a highly popular soundtrack. While Khoye Ho Tum Kahan later made it to DVD/Video in a highly edited version, those who sat through the 174 minute drama when released about two decades ago swear that the project was Meera's tour-de-force. The film once again featured plenty of drama, thrills and twists, and not only did Meera do well in the film's many songs, her performance, along with co-stars Ajab Gul's and Babar Ali's carried the film all the way to super hit status.
Salakhain
Directed by Shahzad Rafiq, released on  June 26, 2004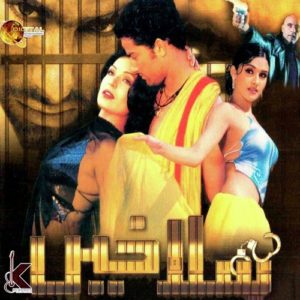 During the early years of the new millennium, Lahore's Lollywood was reduced to churning a handful of films, mostly Punjabi, a year. This was especially problematic for Meera for the actress's strength lay in Urdu films. To make matters worse, Shehzad Gul's Chalo Ishq Larain which starred Meera and Zara Sheikh could not resurrect the film industry's fortunes as had been expected, when released in 2002. Shehzad Rafiq came to the rescue with his long in production action-vendetta Salakhain. Meera was appreciated in the film for her restrained performance, and looked sensational in the many dance numbers 'Ishq Khuda Hai', 'Salakhain' and 'O Yaar Sunehri Si Yeh Shaam'. The movie was a box office smash and restored her stardom somewhat, although with filmmaking in Pakistan coming to a halt, the actress had to seek opportunities across the border for work.
It seems the actress lives by the never-say-die mantra. With her tenacity and commitment to work, we are sure audiences will have another surprise waiting for them this summer with her upcoming film Baaji!