Few weeks back, we updated our readers about upcoming crime thriller film "Aashiq" when its intriguing first look posters were released. The lastest on the project is that famous TV actor Saboor Aly has been roped in for a titular role. The announcement is made in an exclusive reveal to Pakistani Cinema by the writer of film Ali Moeen.
After establishing her name as a versatile actor in different TV projects, Saboor made her film debut with a supporting role in 2016 through Fahad Mustafa starrer blockbuster film "Actor in Law" that eventually landed her Lux Style Award nomination for supporting role in Film category. This will be the first time we will get to see the talented actor in a major role on big screen.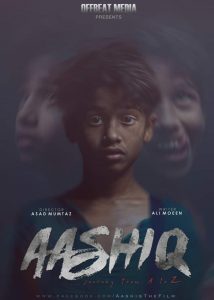 About the film, its story revolves around a 9 years old named 'Aashiq', who belongs to an underpriviliged family and the events and sufferings he goes through in persuit of his dreams that contradict with the society he is born in.
Cast of the film along with Saboor Aly includes prominent names like Hajra Yamin, Hamza Firdous, Saleem Mairaj and Adnan Shah Tipu. Written by Ali Moeen and Asad Mumaz, film will be directed by Asad himself.
The film will shortly go on sets in last week of March or early April and we hope the film turns out to be as intresting as its first look poster.