The Lahore High Court has issued an order to stop the shooting or making of the film "Maula Jutt" in accordance with the "prayers" of Bahoo Films. This, in effect,may halt the release of the film, "The Legend of Maula Jatt".
"The Legend of Maula Jatt" has been a film mired in legal controversy for some time now. The Gandasa epic set to release at Eidul-Fitr this year is in a tug of war between its makers Ammara Hikmat, Asad Jamil Khan, and Bilal Lashari, and "Bahoo Films", the production company that produced the original 1979 film "Maula Jatt".
The Details of the Case
It began with Muhammad Muttaqi Sarwar, the son of Sarwar Bhatti, the founder of Bahoo films, issuing warnings to the makers and stars of "The Legend of Maula Jatt" to cease making the film in 2017. His contention was that since they owned the copyrights to the film, the characters, and the dialogues, no other studio could remake or revamp the film in any shape or form.
Muhammad Muttaqi Sarwar even released a video on Facebook narrating the details of the entire affair. According to him, Ammara Hikmat and Bilal Lashari had repeatedly been issued warnings and had refused to comply.
He also mentioned that Bilal Lashari's father, Kamran Lashari (a retired Pakistani bureaucrat), had used his influence to stay the cease and desist orders issued by the Intellectual Property Tribunal of Pakistan. His entire post regarding this matter is detailed here, and here.
Ammara Hikmat, the producer of the Legend of Maula Jatt has said in response that since Mr. Nasir Adeeb, the writer of the original Maula Jatt, handed over the rights of his literary creation to her and Bilal Lashari, there is no case of copyright infringement at all.
The Lahore High Court Stay Order
Regarding the most recent stay order by the Lahore High Court, Ammara Hikmat says that it only prevents them from engaging in copyright infringement and the use of trademarks. She also states that the team of The Legend of Maula Jatt is in possession of a valid Copyright Certificate to make the film.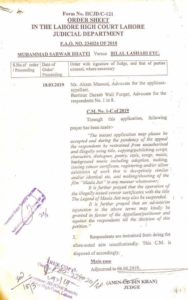 What does it all mean?
If you're confused as to what this all means and whether it will hinder the release of "The Legend of Maula Jatt", the short answer is, "no one really knows". This entire legal battle has been waging since 2012 according to Muhammad Muttaqi Sarwar.
However, since this legal battle is centered on possibly the biggest release in the history of Pakistan, it may very well result in the courts and the government, enforcing the copyright laws in the country.
The growth and evolution of Pakistani cinema is a noble goal in and of itself, however, it shouldn't be at the expense of intellectual property. One hopes that the legal authorities arrive at a swift and final judgment of this case that takes in to account the objective truth of the matter.