If you are asked about an artist within the Pakistani showbiz fraternity who is the very definition of being a jack-of-all-trades, showcasing his talents successfully from singing to acting, the name Ali Zafar comes immediately to mind. The multi-talented star has now produced, acted and scored the music for a landmark film in Pakistani cinema, "Teefa in trouble", which has been instrumental in reinvigorating the revived Pakistani cinema scene this year. The film has brought a paradigm shift in the business dynamics of Pakistani film industry, and its release strategy and production values has put final nails in the coffins of many myth associated with the fledgling Pakistani cinema. Here are some excerpts of the conversation Azadar Kazmi of PakistaniCinema.net had with the powerhouse of talent who's basking in the glory of his debut film's success these days.
"Teefa In Trouble" enters 300 million club in Pakistan. And by the end of its run it would be challenging the net gross of "Punjab nahi jaungi" and "Sanju". Had you expected it to be this much successful or is it beyond your expectations?
Expectations were always high indeed, however for them to come true is the biggest gift one could ask for. The Credit goes to the director, the team and the people who made the film what it is today. God has been kind and so have people.
"Teefa in Trouble" due to its Lahori element is being adored in Punjab which is major cinema market here in Pakistan. Did you enforce this Lahori element for business perspective?
It came naturally. I feel creativity requires sincerity so we were not distracted by the commerce or the business part while writing. But yes, it's important to know who your audience is and who you are making the film for. We wanted to make a film for everyone. Classes and the masses and also showcase our local desi culture.
"Teefa in Trouble" stands apart from other local films for its slick action. Why you chose action for your debut?
Action was an unexplored genre in our films and particularly excites me and our director. However it's a difficult genre to pull off. So very strenuous regime and training was involved to achieve what we had aimed for. Also when you have someone like an Ahsan Rahim, then not having action would be a wasted opportunity. Both of us just love the action.
Is it always going to be with Ahsan Raheem (the director)? Or are you going to try other directors in your production?
I have a very special relationship with Ahsan Rahim and immense respect for him as a person and his craft as a director. That naturally puts him on top of the list of my wish list in directors list.
Teefa In Trouble's music worked big time in film's success. Which song from film's album is your personal favorite?
It always keeps changing but these days i think its "Sajna Dur" and "Ishq Nachaunda".
All the songs in this film are composed by Ali, penned by Ali and then also sung by Ali. Was Ali too selfish or too possessive for his music?
It is about being more realistic i can say. Though film is a fantasy but you have to keep things believable. There was Aima's voice for Maya and it remained so in all the songs to make it believable. Similarly if there were 3 different singers singing in playback for Ali then it would not have made sense.
Talking about music, song "Item number" from your film was campaigned as Non item number. So are you against item numbers?
I am not against anything. If there is anything i am against of then its hypocrisy, lying and cheating. And especially when it comes to Art then everybody has a different take on it, some might find it right while some will not and then there was already an ongoing debate on item-numbers in Pakistani films so i just brought that debate in discussion through my song in a very lighter way.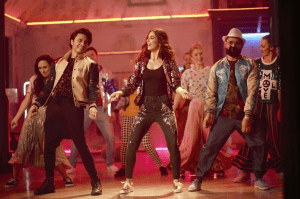 Talking about cast of "Teefa in Trouble", how you got the idea of taking Maya Ali on board for this role? As she never appeared in a film or music video before and was always presented as roti-dhoti on TV.
Maya like many other actresses went through auditions and it was after her third audition when we found her suitable for playing "Aanya"
So can we say Maya earned it?
Yes, she earned it.
Javed Sheikh gets casted in every other film and you too did no different. Why is it so? Do you also believe him as some kind of a lucky charm for a film's success?
Sheikh saab's personality has something which is very rare to find. He's a very good looking and graceful man at this age with that strong voice and stature so he naturally comes to mind when such a character is written.
Right before Teefa In Trouble's release, there were protests and some started their boycott campaign against Ali Zafar and his film. Did it upset you that all of this might affect your film's business?
When you replace "fear" with "faith" then you have nothing to worry about and nothing can upset you because you are now dependent on a force which works beyond your perception. That's what i believe in.
You have been replying very calmly in your recent interviews to all the questions related to recent controversy related to you. What keeps you so grounded that nothing can provoke you?
See when you look into the bigger picture, you are able to understand that we all are going to die someday so you have to be the best of yourself all the time and then you understand that all these difficulties that come your way are there to test you and that your "response" to a certain situation defines you naturally as a human being. When you know inside your heart what the truth is, and you are willing to stand by it then the truth itself is so much empowering that it doesn't let you get hyper in order to prove yourself.
Seemi Raheel (played Teefa's mother) is not happy with the fact that film fraternity didn't celebrate film's success. What you think why they did not?
I actually don't think that much about such things. And obviously everyone has a reason for whatever they do. For me my people are more important. Its People's verdict that matters to me.
Your first film debut was supposed to be in 2007 through Shoaib Mansoor's "Khuda Kay Liye". Why you left that film after shooting some scenes? What went wrong in that project?
That film had a religious controversy attached to it so my parents were upset and worried and they said they will not be at peace if i do it so that's how i quit.
If Shoaib Mansoor offers you a film now and if its content does not bother you, will you accept his film now after 11 years?
Yes if i like the content then sure, why not.
Talking again about Teefa, your character is becoming immensely popular. Do Ali Zafar and Teefa have anything in common?
See, Teefa comes from the streets of Lahore and that's where i grew up. Teefa has his to go through a struggling phase in life and so did I. Also there was a message in the film which Teefa's mother gives him that earning money is not important but earning respect is. Because i think that's the crux of many problems these days that we all prioritize money over relations and dignity. So yes Teefa and Me have quite considerable similarities.
Considering the fact that you prepared for it so long and shot the film over an extended period? Did Teefa left his mark on your personality?
More than Teefa, the experience behind making it actually has left many marks. (Laughs) But i take that also in a positive way that i got to learn through it.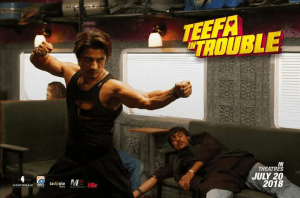 When should Ali's fans be expecting his next film to come out?
I think somewhere in 2020.
With Big Pakistani films being released this Eid and Maula jatt somewhere near, which upcoming Pakistani film you are looking forward to?
I am looking forward to good cinema. Any film which takes our cinema forward, raises the bar and is in the best interest of the industry, look forward to any such film.
You must have watched the trailers of the three films, which one you think you liked?
Yaaar…. (Laughs)
Or is it that you didn't like any of it either?
(Laughs) No No I didn't say it at all…everyone has its unique flavor and I would like to see them and would want them to work well Inshallah.
Any recent Pakistani film you liked this year or released earlier?
I have heard a lot of positive reviews about Cake and i would love to see it but unfortunately I wasn't able to see any Pakistani release this year. Last year I saw Punjab nahi jaungi, and I liked the first half of it.
Do you think there was any film in Pakistan that you think you should have been casted in and you could have done justice with it?
I am no one to say that. I think I don't have that capacity to say. I just have one film in Pakistan under my belt and that worked because of God's blessing and our hard work. I have to prove myself multiple times to claim that I could have done justice to a certain film had I been casted in it.
Apart from your own production house, which director you would like to work with?
Whom do you think I should work with (laughs)?
You are bouncing back my question but I think we would like to see you in a Nabeel Qureshi film. But we would like you to say whom you would like to work with?
Any director who is willing to take risks, wants to bring something different, something never done before and raises a bar.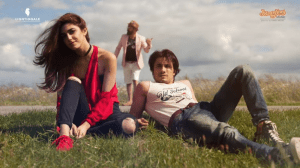 Would you like to do a Noncommercial or a semi commercial film with less mass appeal and more of subject oriented?
That depends on the project I am offered. If it clicks with me, why not.
With all what you see happening in Pakistani cinema. Do you think it has found its direction? Its face?
I think it's just a start. It's a whole long process and this is just a beginning. We have to shed that chronic stigma and perception of people thinking that "Pakistani films are substandard". if one or two films don't work, people resort to the same disappointing rhetoric about Pakistani cinema and if we want to change that we have to deliver continuous and consecutively. The cinema genre can be anything but it should be substantial and relatable. People want to get entertained by paying their hard earned money and that's what we should keep in our mind. I feel responsible towards entertaining a person who pays to see me in cinema and i would make sure to achieve this goal by putting my best effort. We should put our best effort on our screens before putting it to the people. Finding a direction or face is a process that's going to take considerable time.
Indeed the historical success of Teefa in trouble has proved what people want to see and how eager they are for well-made Pakistani films with good production values. Ali Zafar undoubtedly has raised the bar for Pakistani cinema in myriad of aspects and now people want rest of the contenders in Cinema to put a similar, if not a better show. We at Pakistanicinema.net wish the talented artist, all the best for his future cinematic endeavors.