Since their debut through Javed Fazil's directoral "Bulandi" in 1990, Shaan and Reema remained the most adored onscreen pair of Lollywood in 90's for there was an undeniable chemistry these two always brought on screen, the biggest example of which was "Nikaah". Although they could never re unite in a film post 90's era with "Dil Tow Pagal Hai" as their last film together, their fans were overjoyed every time they appeared together, be it Lux Style Awards 2008 or their ramp walk together and later in some TVCs.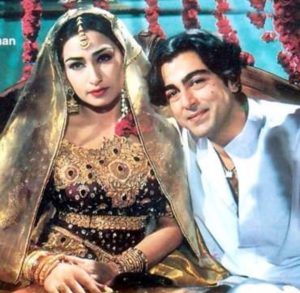 Just a few days ago, Shaan shared an old poster of him and Reema, which they shot for some brand, with caption "2020", giving us a hint that they are working together on some project that would come out in 2020.
But is it a film or some other project? To get answer to this and all similar questions, we at Pakistani Cinema contacted Shaan to get the cat out of the bag.
"Yes its a film project. Reema is in Pakistan these days so we get to meet over it and discuss a lot." answered Shaan.
On being asked about the genre of the film and that who's going to be the director this time as both these talented stars have themselves lent directions previously, he replied, "Its a romantic comedy. I wrote its story and we both have found it intresting enough to make it and we both will co produce it but none of us is going to direct this time. We would just produce and act in it and will take someone's else assistence for direction. Atleast i would not be able to direct this one as i already would be directing another of my project that i am planning to announce with its promo very soon."
With Shaan's statement, we are already over the moon and cannot wait to watch these two to recreate their magic on screen. Stay tuned to PakistaniCinema.net for more updates.