We are all aware of Ali Zafar, Meesha Shafi dogfight that broke out after Meesha's allegations of harassment against Ali Zafar during the heated "Me too" campaign last year, that made headlines across the globe. The issue was later dragged to court with Ali Zafar launching defamation case against Meesha, over which a verdict was finally given by Lahore high court recently, charging Meesha a fine of 10k PKR for not being able to provide proves against Ali.
A new pandora box however opened recently when Lux Style Awards nominees were announced for 2019. It started when model Eman Suleman turned down her nomination of 'Best Emerging Talent' in Fashion, in protest to Ali Zafar being nominated for the same awards in 'Best Actor' category for "Teefa In Trouble".
Meesha Shafi thanked Eman for her support and shunned her nomination for the awards as well (Meesha too is nominated for her song "Mein").
To all concerned. #LSA2019 🙏🏼 pic.twitter.com/nfoHUlTf4W

— MEESHA SHAFI (@itsmeeshashafi) April 23, 2019
After Meesha's quittal for her song " Mein" which is nominated for 'Best Song", Ali Zafar in no time responded back with his hand written poem "Mein", characterizing "Mein" as ego, the route cause of every problem and this clearly hints his referral to Meesha.
The joy in writing. #mein #ego. pic.twitter.com/S5zT4vEcXe

— Ali Zafar (@AliZafarsays) April 23, 2019
Things did'nt stop here as clothing brand 'Generation', makeup artist Saima Bargfrede, folk rock band The Sketches, makeup artist Fatima Nasir and model Rubab Ali followed suit by turning down their nominations.
Going a step further ace director Jami placed his LSA trophy outside his house to support the women of the industry.
"Tomorrow, we will be putting my Lux award outside my gate on the road. Recycle it please. It is useless. We stand with our women and their word – not their soaps." resulting in this!

While it's raining support for Meesha at the moment, Meesha's "Waar" co-star Shamoon Abbasi doesn't seem to be on same page as he called out Meesha and other's decisions of walking out of the awards. And while there is still a debate on "Me too" and award nominations going on, the act by Jami changed the subject for all as celebrities started coming out to condemn this act of disrespecting the award by throwing it on streets.
Rules of throwing awards on the streets :

1. you don't take pictures of thing being thrown away

2. You don't bring the things back home that you have thrown away

3. You don't disrespect your awards for public attention for a matter that has been resolved

— Shamoon Abbasi official (@shamoonAbbasi) April 24, 2019
The "Khuda Key Liye" star, Iman Ali also came up and expressed a similar point of view.
And then came Ahmed Ali Butt, who by the way, is also nominated in the category of "Best Actor" for films along with Ali Zafar. Ahmed too shared a similar point of view.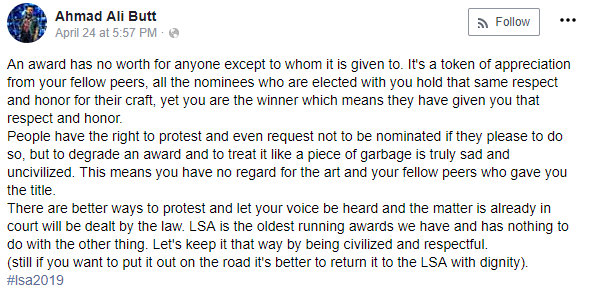 Amid all of these celeb war, the film jury for Lux Style Awards had to issue a press release stating, "The LSA film jury joins the Lux brand and Unilever Pakistan in condemning all acts of intolerance, discrimination or harassment. However, it is also important to emphasise that the decisions of the film jury were based on an assessment of the merits of the cinematic work. We do not consider any other extraneous issues related to the personal characters or actions of people associated with that work."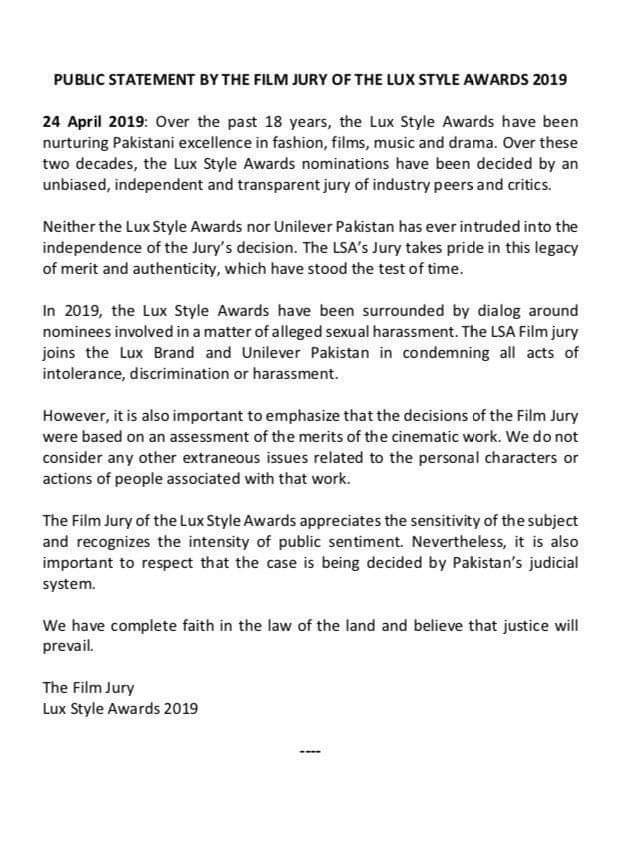 Its a strange turn of events as it was just last year that LSA's featured a special performance to honor the 'Me too' campaign and this year ironically they had to come up for their own defence on the same issue.