It was last year that we heard of Meera's come back to the big screen in Saqib Malik's debut film. The whole cast was revealed by Osman Khalid Butt. The cast is full of gems from Pakistani film and TV industry as it includes; Meera, Osman Khalid Butt, Amna Ilyas, Mohsin Abbas Haider, Ali Kazmi and veterans Nayyar Ejaz and Nisho Begum.
Saqib Malik directed his fair share of music videos which is why the cast and his name attached to the film excited the audience to a new level. On Wednesday, film's first look was revealed through a poster and it features Meera looking her glamorous self along with the super model and actress Amna Ilyas.
https://www.facebook.com/470966153397584/posts/551879968639535/
According to this first look poster, the film is all set to release on 28 June 2019. The poster sure tells us that this film directorial debut by the director of "Khamaaj" is going to be full of glitz, glamour and drama.
Since Wednesday, Baaji's poster has been the talk of the social media and has been ruling almost every platform. Where the audience had different things to say about it, former and co-actors of Meera also had a lot to say about it.
We at Pakistani Cinema contacted some of Meera's colleagues to get their reactions on Baaji's poster and here is what they said:
Sana Fakhar appreciated the team effort and said that she loved the first look of "Baaji". She also said that Saqib Malik surely knows how to pair senior actors with new ones and she wishes the best for both Meera and Amna Ilyas.
Resham said that she really liked it (the poster) as well. The "Jeeva" star praised Saqib and Meera, saying that they both are talented. She also said that she is sure that film will be a good one and hopes that it does good business.
After taking reactions from Sana and Resham, the next Lollywood diva on our list was Noor Bukhari but before we could contact her, her comments on this very same poster appeared on our mobile screens which she left on a post shared by a fraternity insider. Noor had mixed things to say that also gave a hint of jealousy, she said that the poster looks good and she would like to call Meera smart in this regard for investing (as per her assumptions) in the film and hiring a new director to make a film for her. She also said that Amna Ilyas had to be a part of the poster because nobody will come to watch Meera alone.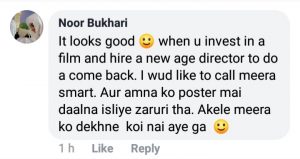 Emmm…! Seems like Noor still could not get over the disastrous performance of her come back film "Ishq Positive". Here we would also mention that the comment has now been deleted.
While Noor's comment left all of us disappointed, the mature and supportive reactions by Sana and Resham won us over. As with a limited number of films being made in Pakistan, the cinema only deserves support and appraisal specially from people who have been a part of it for so long.