Sana Fakhar is one artiste who has always been in the limelight. She gained the star status following her lead role in the super-successful "Yeh Dil Aap Ka Hua". Since that film, even with the Lollywood era coming to an end, Sana has continued to be a major force in the entertainment business. She has transitioned to a successful television star and continues to appear in Pakistani movies.
PakistaniCinema got in touch with the "Alif Allah aur Insaan" star to learn more about her experiences working in Yasir Nawaz's upcoming comedy caper "Wrong No. 2", in which Sana is playing an important role.
Sana describes her character as "humorous". Says the star "The film is all about humour and comedy, it is actually a very nice character and somewhat different from roles I have done in the past. I don't know how it turns out, but I have a strong belief it's going to rock."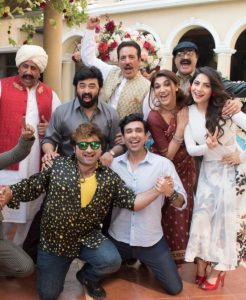 We next asked the "O Rangreza" star how she felt about working with Yasir Nawaz's team. She stated "It was absolutely an amazing experience working with them. And specially to work with someone who has a good sense of humour, is always fun. As you know, the film is all about fun and comedy, so overall I had a great experience!"
As you can tell by her performances, Sana takes her work seriously and is happy with the way her career has shaped up. "Of course I have learnt each day of my career, and learn from all my projects and try to make myself better. When I was in my 20s and teenage years my interests (in terms of characters) were different, but now I think my growth is happening, whether it is television or film. From each project I try to learn and try to have a good experience, while ignoring the negative things".
Since Sana has been an active player in both the Lahore based films and the current ones from Karachi, we could not help but ask her about the difference between them. "I found more professionalism here", she replied, adding "People are not taking their work for granted now. That is especially important in our job. You have to be active, you have to be on time. Everything is done professionally, which I appreciate".
That wrapped up our conversation with the "Yeh DIl Aap ka Hua" star. We wish Sana all the best and look forward to seeing her in "Wrong No. 2"!
"Wrong No. 2" is all set to release in cinemas this Eidul Fitr