While we were all waiting for "Baaji" to see the 90's glamour girl Meera onscreen after a long hiatus. But to our surprise her return might not be that far. And here's how.
Meera recently took to her instagram handle to share poster of her out of the blue movie titled "Sohni Mahiwal" with release date of April 5th written over it .
Based on the hapless folklore of Sohni Mahiwal the movies poster is exuberant showing engrossed Moammer Rana and Meera in gritty rural avatars . Directed by Rasheed the other notable cast of the film includes Arbaz Khan and Shafqat Cheema .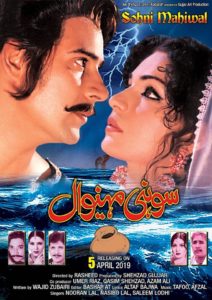 Talking to entertainment portal Images Meera revealed that the film isn't a new one but was being shot 6 years ago and its shooting stopped because she headed to India for some projects. With just one scene remaining to be shot the film saw a delay of 6 years, but is ready to go now.
However for promotions, it seems like the film is following the ways of the times it was shot in, as according to Meera there will be only a press conference for the film which she will be attending and nothing more .
So all the folk tale fans, here's your chance to have a taste of the eternal story this 5th.
Watch out the trailer here